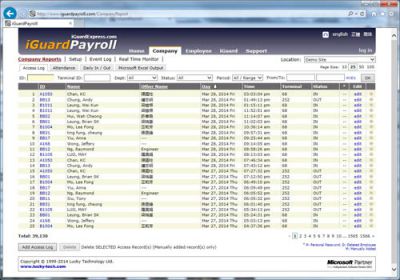 What is it?
iGuardPayroll is a free service for all iGuardExpress & iGuard users. It works seamlessly with all iGuard models, providing essential payroll functions for your company. Unlike other payroll applications in the market, iGuardPayroll is free to use for all iGuardExpress & iGuard users.
Data, such as employees' access log records, is automatically transmitted from iGuardExpress & iGuard machines to iGuardPayroll in real-time manner. It's cloud-based storage can store up to 1,000,000 (or up to five years) records, providing maintenance-free and reliable storage for your company.
It helps you manage your employees' information and provides a lot of management reports, such as late reports, leave reports and more.
iGuardPayroll is availabe anytime and anywhere in the world. It can be accessed via any internet browser.
And last but not least, iGuardPayroll is evolving.  More and more features are being developed and added, making it more and more suitable for your business needs. Feel free to let us know if you want us to incorporate some new features to iGuardParyoll.

Easy Setup
Simply sign-up an iGuardPayroll account for free.  An email will then be sent to you for confirmation.  Once confirmed, your new account will be ready to accept new registration with your iGuard machines.

Registration
It is very easy to register an iGuard machine to iGuardPayroll.  It only involves a few steps of simple setup.  Once registered, all the clock-in and clock-out records of the device will be transmitted automatically to iGuardPayroll, which will be stored permanently in the cloud.
Please note that the iGuard's firmware version must be 5.0.9000 or above.

Real-Time Monitor
An optional feature of iGuardPayroll is to show the pictures of the employees who had just clocked-in & clocked-out.  It provides a very handy tool for the management, for example, to monitor the employees and to know immediately who had just arrived or left the company.

Want to take a look?
The best way to learn more about iGuardpayroll is to try it yourself. The link below will get you to the website.  Feel free to try the functions and to generate some payroll & management reports.
Multiple Divisions
You can have multiple divisions in each account.  Each division represent an individual company or business operation operating under the same user account. This is especially handy if your organization has different business operations such as retails, office, manufacturing... etc.  You can group these different operations under the same user account for easy maintenance.

Microsoft Excel Output
In addition to displaying the reports in Internet Browser, most reports are available in Microsoft Excel format readily for download.
These reports are in real Excel format (i.e., not in csv format), therefore, it will be very easy to incorporate the information into any existing applications if necessary.

Manage iGuard
You can use iGuardPayroll to manage basic functions of both iGuardExpress and iGuard machines, including the default IN/OUT time, the access rights for each department member, retrieving system event logs, and more...

Yes, it is free!
It is free in iGuardExpress Mode. It is also free in 'iGuard - Normal Mode', ie., one Master iGuard unit connected to one division only.
iGuardPayroll also supports SuperMaster Mode (ie., iGuardPayroll acts as a SuperMaster units for any number of Slave iGuard units). There is a charge for this Mode.