iGuard - SuperMaster Mode
In this operating mode, each division (i.e., each company or business operation under the same account) supports multiple iGuards.  You can connect as many iGuard units to iGuardPayroll as needed. These iGuards are slave units to this division, and are running in Slave mode.  Its role in this mode is like an iGuard SuperMaster unit.
This mode is a paid service.  There is a one-time cost of US$1,000.00 (which is the same as the iGuard SuperMaster unit).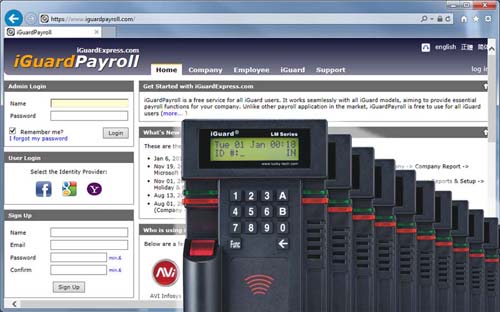 Multiple iGuard units
Hundreds of iGuard machines can be connected to the same division in SuperMaster mode.  Each iGuard unit will share the same set of employee information, such as the access rights and personal passwords.  Any change in iGuard settings (e.g., changing the in/out trigger time) will be synchronized to all iGuard units connected.