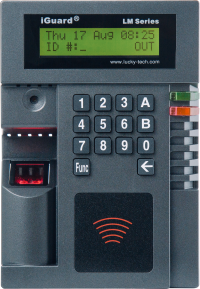 What is it?
iGuard is an Access Control and Time & Attendance device which uses Biometric (Fingerprint) and/or smart card to authenticate the employees. It connects directly to the Internet, and works seamlessly with iGuardPayroll.
iGuard comes packed with advanced features such as Embedded Software and Embedded Web server and requires no special skills or equipment to install and use. With both Access Control as well as Time & Attendance functions, iGuard serves as either a stand-alone or multiple-door plug and play device. Networking is easy using standard CAT5 or CAT6 network cabling.  
Unlike other similar products in the market, iGuard works independently or within a LAN/WAN configuration and can be accessed through the Internet using any Web browser.
iGuard is ideal for companies with multiple locations.  With our Master & Slave configurations, simply connect the iGuards in each location via the internet, and all the employees data, including the access logs and the employee records, will be synchronized automatically.
iGuard is a proven system and it has been in the market for over 10 years. Thousands of companies rely on iGuard for accurate and reliable access log and other records for their reporting and payroll purposes.

A Proven System
Our iGuard product line has been in the market for over 10 years.  After all these years of development, enhancement and field tests (& some bug-fixes of course), iGuard has become a solid proven system that you can count on.
You don't need to risk your business with other unproven products anymore.

Patented Technology
US Patent # 6,643,779

iGuard® award winning technology is patented with many advanced features to assure positive identification for access control and payroll security. 

Reliable Data
With our TCP/IP and network structure, iGuard can provide you with reliable data and information on your employees access and attendance records, even if your business premises is in another city or even another country.