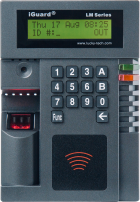 LM-530-FOSC
optical fingerprint sensor

contactless smartcard

built-in web server

master/slave configuration

works with standard electronic door strikes

live demo...
Username: admin
Password: 123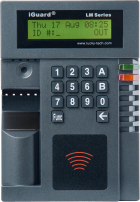 LM530-SC
contactless smartcard

built-in web server

master/slave configuration

works with electronic door strikes

Embedded Web Server
The bulit-in web server enables all the computers in the corporate network to directly & simultaneously access the device using any Internet Browser.  No additional software is required.
US patent #6,643,779

All-In-One
iGuard incorporates Biometric Finger Scanner (FOSC only), contactless smart card & pin pad all in one unit.

True TCP/IP Protocol
Unlike traditional RS-485/Wiegand connection, iGuard is the 1st security product in the market that uses true TCP/IP as the protocol for communication among iGuard devices and with other computers.
Each iGuard device has its own IP address, such as 192.168.0.100.
The protocol enables the device to connect directly to the corporate network via the existing cable wiring.
Built-in Database Server
The built-in Database Server allows convenient retrieving the employee information & their access log records. All the information is real-time information, instead of day-old or week-old data.
Access Rights
iGuard enables managing the access rights of each individual employee or a group of employees easily anytime, anywhere using computers or mobile devices via internet. For example, you can limit the employees of the marketing department rights to get into the office premises during weekdays from nine to five only, or prevent a particular employee from entering the computer server room. 

Contactless SmartCard
All iGuard models (except Supermaster) supports Mifare® contactless smartcard.
Please note that iGuard uses proprietary key for Mifare contactless smartcard. All smartcards sold by our company are pre-formatted with this key.  A card-formatting charge is required if you use your own Mifare cards.

Remote Access & Control
With our embedded web-server, whether you are in an airport lounge or a hotel room, you can always check if your employees are in the office or not, and you can even control, modify & disable their access rights to your office premises via internet connection.

No Software Required
Unlike other systems that requires dedicated computers and software to operate & to retrieve employees' information and access log records, iGuard requires no additional software.  All the administration and maintenance can be done via Internet Browsers like IE, Firefox or Chrome.
Master/Slave Configuration
Multiple iGuard devices can be connected together to form a Master/Slave configuration.
All employees' information, including the access rights, will be automatically synchronized to all devices in this configuration.
Permanent Storage
The built-in Database Server can save up to 20,000 access log records. If you want to save all these records permanently in PC, you need to use our iServerExpress.exe. It will be required to fetch the access log records from iGuardPayroll storage, and save it to the PC.
The records saved by iServerExpress can be used by other payroll programs.

Fingerprint Authentication
* LM-530-FOSC only *
iGuard uses the lastest fingerprint sensor from SecuGen, providing unparalleled speed and accuracy for fingerprint authentication.

RJ-45
iGuard connects to the network using standard RJ-45 cable wiring and other standard network switches.  No special cable wiring and equipment is required.
Master/Slave Configuration
Multiple iGuard devices can be connected together to form a Master/Slave configuration via internet or intranet. In this configuration, one iGuard would be assigned as the Master unit, and all other units are configured as slaves.
All employees' information, including the access rights, will be automatically synchronized to all devices in this configuration.
The Master unit can support as many Slave units as needed. We have deployment with close to one thousand Slave units connected to a Master one.
Connecting to Door Strike
When used as an Access Control system, iGuard can be connected to directly to the door strike as shown in the diagram.
However, since the internal relay's rating is 12V / 1Amp.  If the door strike exceeds this current limit, you will need to use the optional Remote Door Relay.

Easy Connection
iGuard is designed to be directly connected to the corporate computer network and to the Internet via the standard RJ-45 cabling.  By connecting it to the network, one can manage & monitor the unit via any standard web browser, such as Microsoft Internet Explorer & Mozilla Firefox.
Easy Network Setup
Each iGuard has its own network IP address (e.g., 192.168.0.138).  You can configure this address and other network settings, such as subnetmask and DNS via the keypad.  You can also use the keypad to configure the unit as a Master or Slave unit.
Adding & Maintaining Employees made easy with iGuard's Embedded Web Server!
 
Employee List
A list of all employees in the system. The max. no. of Employee is 1,000.
Note: The SuperMaster version supports a max. of 10,000 employee.
Quick Access
Quick Access is an access control feature of iGuard which, when activated, allows employees to access the premises without authenticating individually. For example, during the Quick Access period, employees can just use smartcards to gain access without fingerprint authentication.
Quick Access is usually applied to the period when the security is comparatively less important, such as during the normal office hours when there are a lot of people in the premises, to speed up the authentication time for each individual employee.
iGuard includes three built-in reports: Access Log, Attendance Report & Daily In/Out report, that can be accessed via any web browser. Should more sophisticated reports be required, such as for the payroll purposes, the information can be downloaded and saved in Microsoft Excel format (.csv) and in plain text format (.txt).
Also, more report types are available in iGuardPayrol for freel. Simply register the iGuard with iGuardPayroll and you can immediately access all these additional report types (learn more...).
iGuard also outputs these reports in .csv format (readable by Microsoft Excel) and .txt format, which can be used by other payroll programs...
 
 
LM-530 FOSC
LM-530-SC
Power
12VDC, 600mA
Contactless Smartcard
Yes
Web & Database Server
Built-in
Network Security (SSL)
Optional
Auto Data Synchronization
(i.e., master / slave configuration)
Yes
Yes
Max. No. of Employee
1,000
Max. Access Log stored
20,000
Static/Dynamic IP Assignment
Yes (Support existing DHCP Server)
Non-volatile memory
16MB
Internet Browser
All Modern Internet Browsers
Supported by iGuardPayroll
Yes (requires iGuard Firmware 5.0.9000 or above)
Valid Characters for Employee ID
0-9, A-B (maximum - 10 characters)
Display
16 x 2 LCD with Backlight
LCD Multilingual
Yes (available: chinese & french)
Fingerprint Sensor
Optical
---
Two-Finger Enrollment
Yes
---
Fingerprint Sensor Resolution
500dpi
---
Fingerprint Sensor scan area
12mm x 15mm
---
Verification Time
approx. 1 sec.
---
 
False Rejection Rate
< 1%
---
False Acceptance Rate
< 0.01%
---
AutoMatch Count
100
---
Network Protocol
TCP/IP, HTTP
Network Interface
Ethernet (100-Base T)
Other Interface
Wiegand (output only)
Real Time Clock
Last for approx. 2 days without power
External Controls
Door Strike, Open-Door Switch, Break-in Alarm, Door Status
Dimension(mm)
105(W) x 40(D) x 150(H)
105(W) x 40(D) x 150(H)
Certification
  &